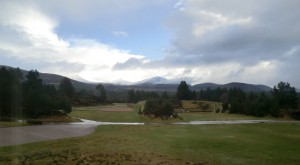 Back from a couple of days at Glenmore Lodge on an L3 Discipline Specific course.
The Centre's accommodation was fantastic – hotel quality.
The course is designed to put into practice the content of the core training in relation to the discipline paddled and to start the process of portfolio building. I think I must have slept through the core training or the long gap between (almost two and a half years) has effected my memory because it was tough going. It is a big leap from Level Two and there seams to have been a shift in the emphasis which I would like to get to grips with. As a Club paddler, the award for me is about informing the role of planning an annual club programme and encouraging members to set personal goals and targets for their paddling.
On the water I was struggling to. Loch Morlich and the River Spay offered stunning views plenty of water and loads of weather (four seasons in five minutes) but in a borrowed boat without solo fittings and challenging coaching content I felt out of my depth for the two days. A period of reflection is called for. In the way the Cairngorms appeared in glorious sunshine to be covered in mist minutes later through the windows of the classroom, my mind will have to work through the content and practice of the two days.